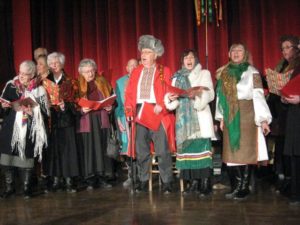 Throughout the near 100-year history of the venerable Ukrainian Labour Temple, music from countless choirs (and orchestras) has resonated within its walls.
The joy of singing together with a love for the music and poetry of Ukraine is the tie that binds the 15 members of today's Festival Choir. We sing in four-part harmony from a repertoire of Ukrainian folksongs and compositions and non-Ukrainian melodies as well. We perform at concerts at the Ukrainian Labour Temple and, upon invitation, are happy to sing at other venues.
Our conductor is Vasilina (Lina) Streltsov and our accompanist is Anna Khomenko. They are highly skilled and have become beloved members of the Festival Choir's family.
The Festival Choir rehearses Friday afternoons from 1-3 pm at the Ukrainian Labour Temple, 591 Pritchard Avenue. Music is provided with lyrics in Ukrainian or in English phonetics. To join the choir, or invite us to sing, or drop in to a rehearsal, call Jeanne at 204-783-7914.
The Festival Choir of the AUUC invites you to THE JOY OF SINGING
COMMUNITY SING-TOGETHER Your favourite Ukrainian, Russian, Canadian folk songs
SUNDAY, MARCH 26, 2017 2-4pm
UKRAINIAN LABOUR TEMPLE, 591 Pritchard Avenue
Music provided and refreshments served
Let's make joyful music!